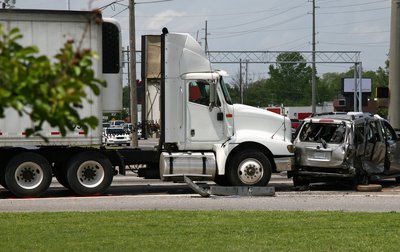 TRACTOR-TRAILER WRECKS
Large trucks caused over 5,000 truck accident fatalities in 2019, and more than 101,000 injuries.  Over 118,000 large trucks were involved in collisions which caused injuries.  With nearly 9 million large trucks on the highways every year, these unwieldy semi-trucks are a very real danger to all of the other vehicles on the roadways.  Driving in Texas can present some real dangers as tractor-trailer traffic is high on our interstate highways such I-10, I-20, I-30 or I-35.  In 2019, Texas led the country in fatality collision involving tractor-trailers with 579 fatalities.  The next closest state was California with 355 deaths followed by Florida at 311 deaths.  Texas had over 12% of the fatalities nationwide in 2019 for collisions involving large trucks.
Why is a Truck Collisions Different than a Car Collision?
If you tangle with a tractor-trailer or other large truck, your likelihood of severe injuries or death goes way up. Truck accident collisions are more likely to result in fatal multiple-vehicle collisions. Large trucks are unable to stop quickly because of their weight and size, and the same mass makes large truck accidents much more severe; causing more damage to passenger vehicles than collisions with other vehicles.
18-wheeler tractor-trailer operations can be governed by federal regulations.  You need an attorney with the experience to ask the right questions, and launch an investigation based on federal regulations; not just state laws that apply to passenger vehicles.
Without asking the right questions, and taking into account federal regulations that govern all aspects of tractor-trailer operation, you might not get the information you need to pursue your truck accident case. Let an experienced professional do it for you, and you don't have to worry about missing anything important.
Common Causes of 18-wheeler collisions
Some of the common causes of a collision involving a tractor-trailer are:
Tire defects on the tractor-trailer. They account for around 30% of all truck-related accidents.
Driver fatigue.  Truck drivers are often pushed by companies to get the load delivered quickly.  Despite the federal regulations which limit the amount of time a commercial driver can legally operate a truck, driver fatigue is a leading cause of 18-wheeler crashes.
Aggressive reckless driving
Distracted driving
Driving under the influence
Speeding
Failure to maintain a safe distance
Improper load distribution
Inadequate training
Finding the Liable Party in a Truck Accident is Challenging
Proving who caused the collision is not always an easy question, and it presents unique challenges in the case of a truck accident.  In a semi-truck wreck, both the driver and the owner of the vehicle may be liable.  In many cases, 18-wheeler drivers don't actually own the truck; they're hired by a company to come in and drive.  In the event of an accident, both the driver and the company may be liable, and each party may argue their share in the case to avoid responsibility.
In a truck accident, you have to get information about the driver's driving record, the company's hiring process, and the company's training of its drivers.  Tractor-trailer companies are required by federal law to carefully screen their drivers and their driving record, but many times the company's screening process is faulty and an experienced attorney can find that the company hired a driver with a criminal history or alcohol/drug problem or a history of bad driving habits.  Additionally, some trucking companies put pressure on their drivers to get their load delivered on or ahead of time and you have a driver driving fatigued.  That is what a proper investigation of the accident will reveal and determine whether the trucking company created an unsafe condition which caused the accident.
Get a Free Legal Consultation to Evaluate your Truck Wreck Case
Because of federal regulations governing large truck operations and the different aspects which need to be investigated, you need an experienced truck accident attorney to prosecute your case. We have the experience to ask the right questions and make sure we conduct a thorough investigation to enable us to pursue your truck accident case. You won't need to worry about the difficulties of fighting with an insurance company or establishing liability when you consult a professional; all you have to do is give us the details and move on with your life, while we fight for you.
No Recovery, No Fee. Free Consultation.

CALL TODAY as valuable information can be lost unless an investigation is promptly done.
Toll Free: (833) KISSLAW
Local:  (817) 500-0990