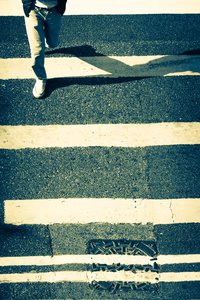 In Texas, pedestrian deaths are on the rise.  According to the Texas Department of Transportation, 1 in 5 of all traffic fatalities involve a pedestrian.  In 2020, there were 4,852 collisions involving pedestrians, resulting in 1,211 serious injuries and 731 deaths.  This was a 9% increase from the prior year. According to TXDOT, the top factors that contributed to pedestrian fatalities were:
Pedestrians failing to yield the right of way to vehicles;
Driver inattention;
Drivers failing to yield the right of way to pedestrians; and
Speeding.
Pedestrian accidents usually result in more serious injuries to pedestrian given pedestrians are unprotected.  All drivers, as well as pedestrians, need to remember the rules of the road when it comes to vehicles and pedestrians.
Rules of the Road
A driver must yield to pedestrians crossing at a crosswalk, even when the driver is allowed to make a right or left turn;
A driver must yield to pedestrians on sidewalks when pulling out of or into a driveway or alleyway;
Drivers are not allowed to pass another vehicle when it is stopped for a pedestrian;
Pedestrians must yield to vehicles when not crossing in a crosswalk;
Pedestrians must use sidewalks when available as opposed to walking in the streets; and
If there are no sidewalks, pedestrians should walk as far to the left as possible on the side of the street facing traffic.  This allows the pedestrian to see oncoming cars and trucks.
If you were a pedestrian and hit by a car or truck while attempting to cross the street or walking on the road, give us a call to discuss your case.  We have the experience in representing pedestrians injured by others. 
Kisselburgh Law Firm | 817-500-0990