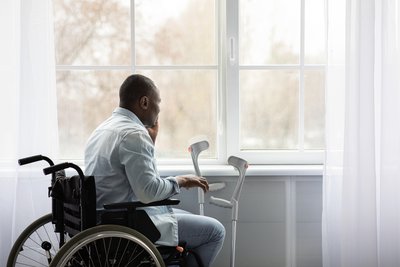 A spinal cord injury is where a part of the spinal cord or nerves are damaged causing permanent changes in strength, sensation and other body functions depending on the area of the spine injured.
Types of Spinal Cord Injuries
Complete:  All feeling and ability to control movement are lost below the area of the spine injured.
Incomplete:  If you have some motor or sensory function below the affected area, the injury is called incomplete.  There are varying degrees of incomplete spinal cord injury.
Common Causes of Spinal Cord Injuries
Some of the common causes of spinal cord injuries are:
Falls
Car, truck, or motorcycle collisions
Sports injuries
Diving accidents
Trampoline accidents
Violence
Spinal Cord Injuries can be Life-Altering
With a minor or even serious back injury, it is possible to recover and resume your normal day-to-day life routine. With a spinal cord injury, your life can be forever changed. You'll be working to adapt and find a new way to live and the last thing you need is to worry about medical bills and living expenses. 
Consult an Experienced Lawyer Regarding Your Spinal Cord Injury Case
Have you or a loved one been a victim of a spinal cord injury? Spinal cord injuries are devastating and life-changing.  The Kisselburgh Law Firm has represented many individuals with spinal cord injuries, including quadriplegia and paraplegia. We know that when you are struggling with a catastrophic injury, the last thing you want to worry about is money; you want to think about how to continue to live your life.  You need someone with experience on your side.
If you received a spinal cord injury due to a tractor-trailer accident, car accident, boating accident, product defect case, work-related accident or other instance of negligence, you need to consult with an experienced personal injury attorney.  But you need an attorney experienced in handling spinal cord injuries as they present a whole different set of issues not found in your ordinary injury claim. Robert has has represented many individuals who suffered spinal cord injuries and helped them recover money for their injuries.  Take the worry out of your hands.  If you or a loved one suffered a spinal cord injury, contact us today to discuss your options.
Free Consultation.  No Upfront Money is Required.
Toll Free: (833) KISSLAW
Local:  (817) 500-0990