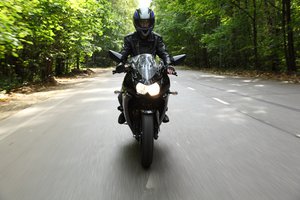 Now that Spring has arrived, it is time for many folks to dust off the motorcycle and head out onto the open roadways.  But before you do, remember some practice safety tips.
Safety Tips
If you have not inspected your motorcycle recently, check all the tire pressures, tire tread condition, brakes, headlight and taillights and fluids.
Wear proper protective equipment when riding.   Now is not the time to be riding in shorts and flip-flops.  Road rash from just laying a motorcycle down during a minor accident can leave lasting painful scars.
Wear a helmet.  It is the number one piece of safety gear to save you from a life-threatening head injury or death during a collision.  While Texas makes a helmet optional for those 21 or over who have proof of having completed the motorcycle safety course or proof of health insurance, those under 21 are required to wear helmets.  These same requirements apply to passengers on motorcycles.
Drive defensively.  Don't anticipate the other person will see you.  Remember, in a collision with a car or truck, the motorcycle rider is the least protected and most likely to suffer the more severe injuries in a collision. 
Motorcycle Crash Statistics
The National Highway Transportation Safety Administration (NHTSA) reports that in 2019, 5,014 motorcyclists died in the United States.  During 2020 in Texas, there were 482 motorcyclists (drivers and passengers) killed, 1,856 seriously injured and 2,687 suffering non-incapacitating injuries.  45% of those killed were not wearing helmets.  Be safe and don't become a statistic.
If you or a loved one are injured in a motorcycle collision, call us now to discuss your case at 817-500-0990 or contact us online.