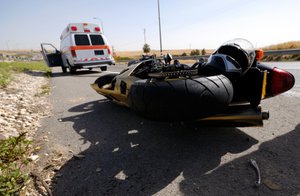 With summer weather, more people are dusting off their motorcycles and hitting the roadways.  As much fun it is to ride a motorcycle, it comes with increased dangers when sharing the roadways with car, trucks and semi-trucks.  According to Texas Department of Transportation (TXDOT), the combination of congested roadways, distracted driving and difficulty in seeing motorcycles in traffic has led to preventable fatalities each year.  Many times, the other driver says I did not see the motorcycle.  Part of this is due to driver expectations.  Most people driving are looking for cars or trucks and given a motorcycle is much smaller, it can be difficult to see at times.  Texas law says that anyone operating a motorcycle on public roads must have the headlight of the motorcycle turned on at all times while operating the motorcycle.  This helps other drivers see motorcycles even during the day.
Common causes of motorcycle accidents
               Below are some of the more common causes of crashes involving motorcycles in Texas.
Distracted Driving/unsafe lane changes—this has become a major problem as drivers are doing something other than paying attention to the roadway while driving. 
Driving Under the Influence—drugs and alcohol never mix well when driving either a car or motorcycle.  In 25% of the crashes where someone was killed in Texas, one of the drivers was under the influence.
Left turn accidents—approximately one-third of motorcycle accidents occur at intersections.
Speeding/Aggressive Driving—speed is a major cause of all accidents but when it involves a motorcycle, the consequences are much more dire for the motorcycle rider given the motorcycle is not protected like a car or truck.
Texas Motorcycle Crash Statistics
Motorcyclists are 25 times more likely than passengers in cars to be killed in an accident and 5 times more likely to be injured.
16% of all vehicle fatalities in Texas involve motorcyclist.
In 2021, 519 motorcycle riders died in a crash on Texas roadways and 2,318 were seriously injured in crashes.
In almost half of the fatality collisions, the motorcycle rider was not wearing a helmet.
More than half of motorcycle crashes result from a collision with other vehicles.
Common Injuries in Motorcycle Accidents
Internal injuries
Road rash
Ways to Prevent Motorcycle Accidents
Pay attention at intersections.  Nearly one in three motorcycle fatalities happens at intersections.
Put down your phone and drive.  Keep your attention on driving.
Look twice when changing lanes.  Check your mirrors, blind spots and always use turn signals.
Don't drink and drive.
Obey the Rules of the Road we all learned when we got our driver's license.
If you were injured in a motorcycle crash and have questions about your options for recovering damages for your injuries, call us at Kisselburgh Law Firm.  We have experience representing motorcycle riders injured in collisions.