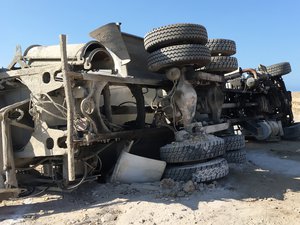 In 2022, Texas led the nation with the highest number of traffic fatalities. According to the National Highway Traffic Safety Administration (NHTSA), there were 4,496 traffic fatalities in Texas in 2022.   The four other states leading the nation in traffic fatalities were California, Florida, Georgia, and North Carolina.  Those five states accounted for 37% of the traffic fatalities in the United States in 2022.
Surprisingly, the majority of traffic deaths were not in the large metropolitan areas like Dallas, Fort Worth, Houston, Austin, and San Antonio.  Rather, according to the Texas Tribune, 51% of traffic fatalities in Texas were in rural counties where 10% of the Texans live.  A number of factors attributed to the larger number of traffic fatalities in rural counties in Texas.  Speeding and low seatbelt usage are two of the top factors.
Many highways in Texas have speed limits of 75 or 80 miles per hour, which increases the risk of serious accidents and fatalities. Speeding is a leading cause of traffic fatalities in Texas, and reducing speed limits on highways could help to reduce the number of accidents and fatalities.
Seatbelt usage is another way to reduce traffic deaths.  While the overwhelming majority of drivers and passengers use seatbelts, the lack of seatbelt usage was a major factor in the traffic fatalities reported.  In 2021, Texas reported 89.8% usage of seatbelts which is almost equal to the national average of 90.4%.  For some reason, more people in rural areas of Texas are not using seatbelts as often and this has contributed to the rise in fatal injuries during collisions.
Additionally, poor cell phone coverage in rural Texas is another reason for the high number of traffic fatalities in Texas as it keeps people from calling for emergency responders to help the victims of a collision.  Further, just the size of Texas contributes to these rural traffic fatalities. With over 29 million residents and a land area of 268,581 square miles, Texas has a lot of ground to cover and a lot of people on the road. This increases the likelihood of accidents and makes it more difficult for law enforcement and emergency responders to respond quickly to accidents, especially in rural areas.
If you are involved in a collision and seriously injured, you need to talk with an experienced car and truck wreck attorney.  At the Kisselburgh Law Firm, we have over 30 years' experience representing people seriously injured in car and truck wrecks.  Call us now for a free consultation at 817-500-0990 or contact us online.  No fee unless we recover money for you